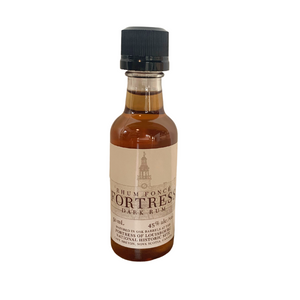 Richly hued FORTRESS® Dark Rum offers complex oak and caramel notes in this expression of our popular FORTRESS® Rum, that builds on the legacy of the New France rum trade.
Matured in oak barrels at the Fortress of Louisbourg National Historic Site, on Cape Breton Island in Nova Scotia.
Le rhum foncé FORTRESS® riche en nuances offre des notes complexes de chêne et de caramel dans cette expression de notre rhum populaire FORTRESS® qui s'appuie sur l'héritage du commerce du rhum de la Nouvelle-France.
Mûri en fûts de chêne au Lieu Historique National de la Forteresse-de-Louisbourg Cap-Breton, Nouvelle-Écosse, Canada.
Proudly handcrafted in Guysborough, Nova Scotia at our Authentic Seacoast Distillery and bottled at our very own Acadian Maple Products. A Taste of Nova Scotia.
40% alc./vol.
50 ml
Please note our alcohol products are for 19 years of age and older, can only be shipped within Canada except to Ontario.
Dear Ontario, we wish we could send this to you but regret that we are not permitted to ship directly to you. However, if you want a 'Taste of Nova Scotia' we invite you to enjoy our Fortress Rum and Glynnevan Double Barrelled and Cabot Tripple Barrelled Whisky - it is available from your local LCBO Store and their online store! SOCIABLE!