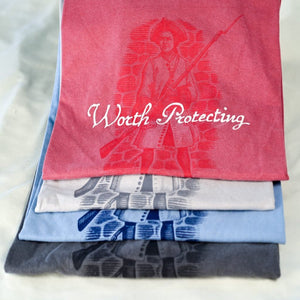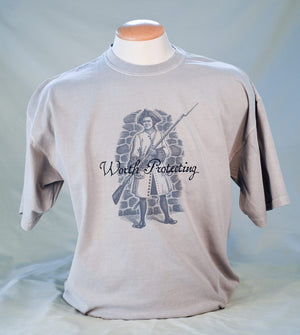 Fortress Worth Protecting T-Shirt
Garment Dyed Amherst 100% cotton t-shirt.  This short sleeve t-shirt bears the motto of our international award winning Fortress Rum TM,  "Worth Protecting". 
Three hundred years ago, passion brought courageous souls to the New World, and they protected their claim with stone walls, gates, ramparts, cannons and war. A part of their daily ration, rum helped fuel them and kept their passions alive. Proudly matured in oak barrels at the Fortress of Louisbourg National Historic Site in Cape Breton, Nova Scotia, Fortress Rum captures the spirit of the New France rum trade started here over three centuries ago, a tradition "Worth Protecting".  The t-shirts pays tribute to these times and are available in a variety of sizes and colors.