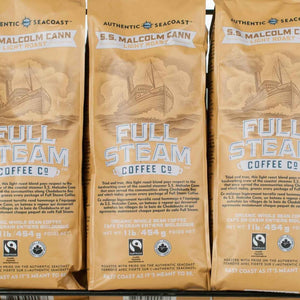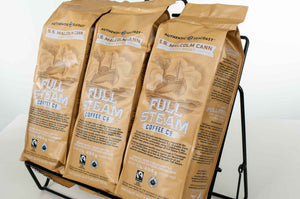 Full Steam SS Malcolm Cann Commemorative Light Roast Coffee (Whole Bean)
Certified organic and fair trade, this light roast blend pays respect to the hardworking crew of the coastal steamer S.S. Malcolm Cann. The Malcolm Cann served the communities along Chedabucto Bay and today graces every package of Full Steam Coffee. Each bag is 1lb/454 grams of whole bean coffee.
Hand roasted in small batches from our roaster on beautiful Guysborough harbour, Nova Scotia, the Full Steam Coffee Co. produces eight distinct coffee blends. All our coffees are Fairtrade certified and certified organic by Pro-Cert.