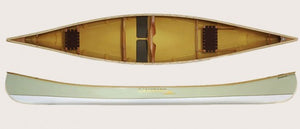 Prospector 17.4 Langford Canoe
The Authentic Seacoast Company is proud to be an Authorized Dealer for Langford Canoes, Canada's oldest canoe company. Since 1940 Langford's master canoe builders have set the standard for excellence in canoes in the world.
The Prospector 17.4 reflects that commitment to excellence and leadership as the flagship canoe in Langford's symmetrical series of canoes. With big water safety built into the Prospector 17.4. this is a canoe designed to handle the Authentic Seacoast. Inspired by the legendary Cedar Prospector 17.3, the Prospector 17.4 is the canoe for people who need to meet their destination. The flared hull, swept gunwhale and "spray rail" provide unmatched stability. The Langford Prospector 17.4 is the choice for everyone who values safety and stability. Whether it's a family with children and pets, avid trippers, photographers or local fishers, the Prospector 17.4 is the canoe to get you there and back.

| | | | |
| --- | --- | --- | --- |
| Length | 17'4" | Beam | 35.5" |
| Depth | 14.5" | Weight | |
| Capacity | 1300 lbs. | Rocker | slight |
| Bow | 22" | | |
| | | | | |
| --- | --- | --- | --- | --- |
| Trim | L-Glass | Kevlar | UltraLite | Carbon |
| Ash / Cherry | 76 lbs. | 54 lbs. | 45 lbs. | 44 lbs. |
| Aluminum | 73 lbs. | 50 lbs. | 41 lbs. | 40 lbs. |