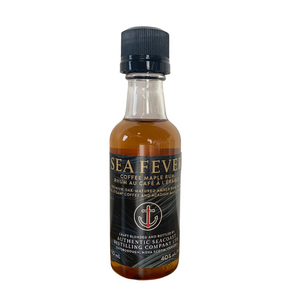 Sea Fever Coffee Maple Rum (50mL)
Sea Fever Rum is a testament to our passion for the seacoast- our people, our history and our traditions.For three centuries, salt cod and lumber left our shores for the west indies, the ships returning with "Hogsheads" of rum in their holds. This proud trading history continues with our Sea Fever Rum. We oak-mature and blend select Caribbean and Canadian rums in our distillery on the historic Guysborough Harbour.
We add organic, fair trade Full Steam Coffee, local maple syrup and a hint of licorice to create a premium flavoured rum that is uniquely Nova Scotia Maple sweetness is balanced with coffee, licorice and notes of fig and vanilla for a distinctive taste that's delicious over ice, in a special coffee or mixed in your favourite coffee liqueur cocktail.

40% alc./vol.
50ml

Please note our alcohol products are for 19 years of age and older, can only be shipped within Canada except to Ontario.
Dear Ontario, we regret that we are not permitted to ship directly to you BUT we invite you to enjoy our Fortress Rum , Glynnevan Double Barrelled and Cabot Tripple Barrelled Whisky - it is available from your local LCBO Store and their online store.  SOCIABLE!
seafeverrum.com